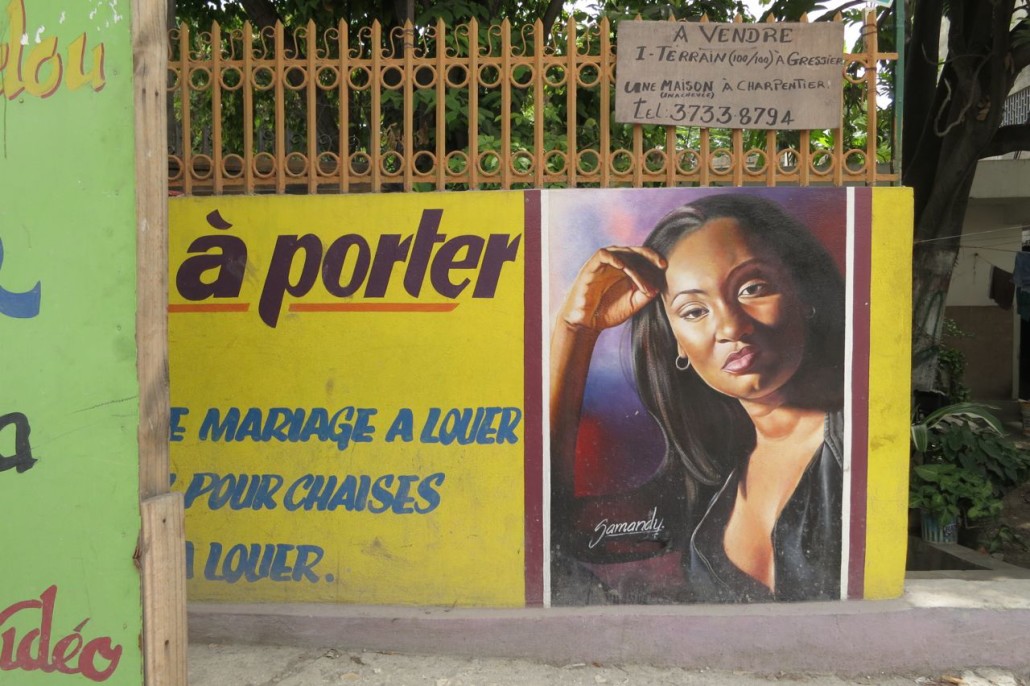 A Salon de Beauté in Carrefour featuring Haitian actress Fabienne Colas, decorated by Samandy
Samandy is a working artist who lives in Carrefour along a bustling commercial street full of ornately painted barbershops and every other sort of Haitian small business. As a child, when his family noticed his early interest in painting and drawing, a relative with a woodworking shop introduced the boy to the late, legendary sign-painter Dautant, whose painting studio was nearby. Dautant was in a sense the aesthetic grandfather of serious representational painting on Haitian Salons-de-Beauté, and at age 14 Samandy began a roughly four-year apprenticeship under him, observing and assisting. Wary of being pigeonholed as a commercial artist, Samandy says he paints barbershops largely for friends and businesses in the neighborhood, while concentrating on work on canvas in his home studio. His color palette is exceptional and unique, and his backgrounds almost fauvist.
To order a portrait by Samandy please check the Commissions page for details and contact information.
Samandy often uses his friends from the neighborhood as models. The first of these images is one example. The last, most definitely not from the neighborhood, the queen of the universe, Lady Bey, is slightly faded and mottled from her time spent outside, advertising. All are on Salons de Beauté near Samandy's home.